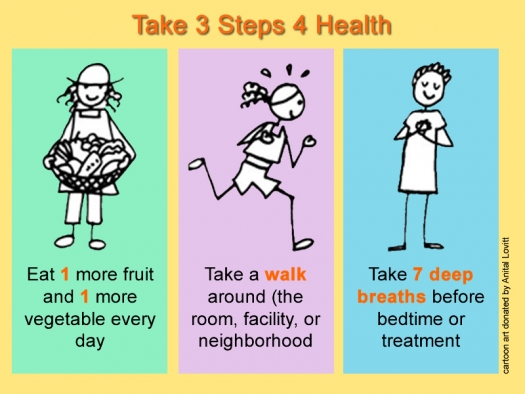 When I founded the Annie Appleseed Project my idea was to help people going through cancer treatments. As I watched my (new) friends suffering from the toxicities being called 'side' effects, I kept noticing that so many people were suffering from so many problems at the same time. Back in 1993, no one's doctor thought about recommending exercise to reduce fatigue, nor were they talking about nutrition to help stay strong or regain strength and energy. And deep breathing was unthinkable. In fact the first oncologist I consulted told me that yoga could kill me!
But now it is quite generally recognized that these are good ideas (lots of studies are behind this acceptance1,2). Sadly the methodology of research is to break down big concepts into little tiny bits so that it is difficult to point to any one study demonstrating the value of excellent nutrition (defined by ME as fruit/veggies, less sugar, NO JUNK (deep-fried, including chips), NO soda). So searching the Library of Medicine online for 'nutrition and cancer', I found 14,473 studies that touch on one or another aspect of 'good nutrition' but NONE that bring it all together. To illustrate these concepts one must read a whole bunch of studies and listen to many presentations. That's what I do. My full-time work is in keeping track of current and past research, asking researchers questions and focusing attention on areas of interest to me and those with cancer challenges.
I see my job as channeling all the separate ideas generated by science, into a usable whole. So Annie Appleseed Project has come up with the concept 3 Steps 4 Health that you see on this page. These simple steps can be done by anyone/everyone in treatment or recovery. It requires no special equipment and can take place anywhere.
Step 1 suggests that 1 more fruit AND 1 more vegetable every day, can improve your health. Studies among the elderly (easily tracked due to Medicare) show that folks who take this step have fewer doctor visits. Some studies have shown that people who lose weight from or during treatment, have worse outcomes. So taking this simple step may improve how you feel and how you do in your cancer journey. If you decide you want to eat more than one more, go for it. The National Cancer Institute produced a guide on Nutrition in Cancer Care that is worth reading.
Step 2 is a simply reminder to be physically active daily and especially during treatment. A search on the National Cancer Institute website offers 1,185 papers on exercise. Among them are a Duke University study showing improved survival among brain cancer patients. Being active reduces fatigue – it's been studied in just about every cancer situation and holds true. You do NOT have to be an athlete, that's why step 2 suggests a walk around your room, the hospital facility or the neighborhood. Do what you can and do it every day.
Step 3 is about relaxation. Taking 7 deep breaths will help you to relax whether you are facing treatment or trying to get some rest. It may help with pain or distress and of course can be done anytime of the day or night.
I hope you will choose to share this useful information with anyone else in your support group or who may need it. It's lightweight and portable and guaranteed to make you feel a bit better.
And although it is NOT one of these steps, I want to remind everyone that ginger is a fantastic aid to reduce nausea. Try ginger tea with organic honey (NOT sugar).
References
"The studies demonstrated that aerobic and resistance exercise improves upper and lower body muscle strength more than usual care". Crit Rev Oncol Hematol. 2013 Aug 8. pii: S1040-8428(13)00142-X. doi: 10.1016/j.critrevonc.2013.07.001. [Epub ahead of print] Effect of physical exercise on muscle mass and strength in cancer patients during treatment-A systematic review
"Conclusion: Weight loss both before and during radiotherapy are important prognostic indicators for 5-year DSS in HNC patients. Randomised studies into the prognostic effect of nutritional intervention are needed". British Journal of Cancer advance online publication, 8 August 2013; doi:10.1038/bjc.2013.458 www.bjcancer.com. Critical weight loss is a major prognostic indicator for disease-specific survival in patients with head and neck cancer receiving radiotherapy.
About the Author