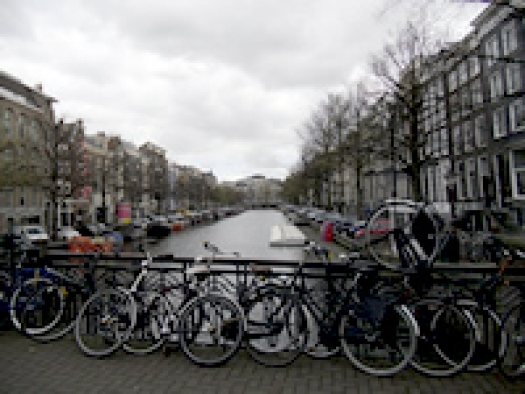 I was in Holland giving an interview with John Consemulder when I mentioned that I have always wanted to do a thermal study with a chi gong master. To my surprise he tells me that his wife, Renske, just so happened to be a chi gong master and would be home soon to do just that.
I had my thermal camera with me so I took pictures of her hands and then she began to focus her body's energy and intended to raise the temperature in her hands by moving energy. I was completely blown away by how quickly the temperature started changing. She began doing something known in chi gong lingo as "releasing gases" which is where she brings gas out of her stomach and belches. I was not familiar with this technique but was impressed when the temperature flickered hotter on her palms and fingers whenever she did it. In a matter of seconds she was able to increase the temperature in her hands by more than one degree which is considered significant in thermal imaging research.
I have seen videos of chi gong masters shrinking tumors in real time using an ultrasound machine and by seeing these thermal images with my own eyes. I am interested in learning more about how chi gong can be used in healing.
After Holland I went to visit Dr. Sandor Kulin in Budapest, Hungary and was blown away by the combination of treatments that are available. Dr. Kulin was a fantastic host who showed us his integrative clinic which utilizes progressive energetic technologies along with two other centers around Budapest which have been highly successful in restoring people back to wellness.
First, he introduced us to Robert Lyons who is a kung fu champion and host to next year's world championships. He developed a method to structure water in an attempt to improve his fighters' recovery. He calls the water Kaqun (kah-coon) and explains that it is highly oxygenated which nourishes the body in many ways.
Mr. Lyon's daughter developed cancer and the tumor was so large the doctors could not operate. They told her there was nothing else they could do. Robert Lyons had his daughter both drink and take baths in his water which shrunk the tumor ten inches to where it was small enough to operate. Research began in 2004 to investigate its validity and they released the latest reports in September. He showed me some amazing before and after pictures of people with breast and uterine cancers. I watched the pictures progress to healthy, glowing skin and he explained the follow-ups with doctors report there was no longer a sign of cancer in either patient. He had a large file folder with similar stories for each patient. The water has been successful in treating skin disorders and digestive issues, as well. They were so busy I did not have a chance to take a soak in the bath but took it as a sign that Robert Lyons must be onto something if there are so many people coming to him for help.
The next day, Dr. Kulin took us to Dr. Mohacsi's clinic just outside of Budapest. He has the most sophisticated MRI in Hungary, a 3D thermal camera and numerous energetic screening and treatment devices. He is a general practitioner and specializes in sports medicine.
He showed me a room lined with professional athletic jerseys from all over the world from athletes who he has treated. From soccer to cricket to Olympic athletes who have signed jerseys, memorabilia and have even given him trophies for treating them and restoring them back to fully functional and optimum health. He is even the trusted physician of members of the Hungarian government and their families.
Other than MRI and thermal screening, his clinic is like no other and unlike the typical hospital settings in the United States. He rarely recommends surgery and uses combinations of integrative therapies including chiropractic, massage, and energetic therapies. His broad range of treatment tools allows him to increase his skill set and determine the proper healing protocol for each person individually. This is another top integrative healing facility in the world. If you would like to contact Dr. Sandor Kulin for more information about healthcare in Hungary, please email him at: kulinsandor@gmail.com.
About the Author