Treatment Centers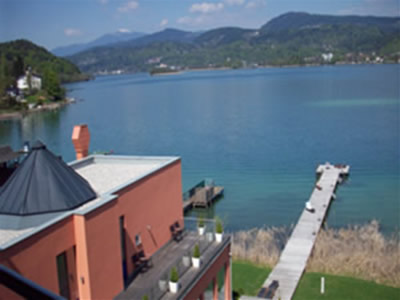 The Viva Modern Mayr Medicine clinic is located in the mountains near Klagenfurt-Worthersee in Maria Worth, Austria. The clinic provides care on an inpatient basis with patients staying in 40 units at the clinic.
Photo courtesy of Viva Modern Mayr Medicine clinic; used with permission.
FAIM visits treatment centers all over the world in search of innovative treatments for the benefit of all society. These clinics are located in Europe, Mexico and South America.
Many people are finding it is cost effective to travel abroad for medical care and procedures. FAIM takes a look at this alternative.
Soukya means 'wellness' in Sanskrit which is the foundation of Dr. Mathai's Soukya Wellness Centre in Whitefield, India. It is an excellent case study for integrative medicine with a highly diverse staff who are trained in both Western and Eastern medical practices.
The Peruvian Institute for the Study of Andean Phytotherapy was created to scientifically study and valorize the incredible wealth of knowledge in Traditional Peruvian Medicine.
Dr. Pazan is the director of the Bio Center Reckewig. It is a small multiple physician clinic of natural and non-toxic therapies is situated in the city of Ambato, Ecuador.
"Modern Mayr Medicine," therapy at the clinic is based on the F. X. Mayr, M.D. (1875-1965) therapy for a healthy person. Dr. Mayr's work was about the link between digestion, intestinal health and overall health. According to Dr. Mayr, "The intestines are to man what the roots are to the plant. Only when these roots are kept in an optimal condition of nourishment and cleanliness, can the plant (man) itself thrive and remain healthy."
The clinic proposes a medical paradigm based on non-toxic biological medicine that, not only identifies, but also eliminates the root causes of acute and chronic diseases.
The Guamani Clinic in Quito, Ecuador is a government supported public health center which offers an array of complementary and alternative therapies.
Dr. Hilu's clinic states that the trauma of fighting cancer can be very discouraging and one needs to treat the person as a whole as "the body is not separate from the mind and the heart."
Dr. John Humiston received his medical training in the military. He determined he could practice medicine more effectively in Mexico using alternative medicine and unconventional therapies.
Meet the Founder

Businessman and retired Congressman Berkley Bedell founded the Foundation for Alternative and Integrative Medicine in 1998. Learn more...
Gifting Opportunities
FAIM depends upon public donations to continue its work. You can help!
Giving options include: