34th Annual United States Psychotronics Association Convention
Conference
Presenters: Jamie Champion, Roger Taylor, Ph.D., Stephen Levine, Ph.D., Tim Atkinson, NMDD, Karl Maret, M.D., Dean Bader, D.V.M., Robert Gulick, Mark McKibben, Claude Swanson, Ph.D., Julianne Bien, Lavern Denyer, Ernest Richards, Darrell Brann, Pat Hendricks, Hohn Ferguson, July Lynn Cole and Atala Toy. Special Guest Speakers are Beatrice Lydecker and George Noory.
Location: Skokie, Illinois
Date: July 18-22, 2008
Web site: www.psychotronics.org
Attendee: Joanne Quinn, Ph.D., R.M.A.
History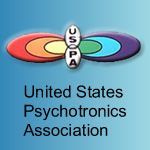 The USPA evolved from a meeting in Indianapolis, Indiana, in 1975, organized by the late J. G. Gallimore. A talented psychic and scientific researcher himself, Jerry sought to understand the rules governing the energy fields and currents he could see and feel around people, objects and machines and to develop ways of constructively applying those rules. The meeting drew over 80 people and led to a second meeting in Washington. D. C. the following year. That was when the decision was made to form a registered non-profit organization under Section 501 (c)(3) of the IRS Code, as the U.S. Psychotronics Association. The USPA was incorporated in the District of Columbia on August 5, 1977.
Conference Summary
The conference was an effort to combine the paranormal with explanations regarding elements of healing which the world does not generally understand. Topics included ColorPrint Therapeutics, discussions of Orgonite and Ormus and the healing fields that are resulting, the oxidative nature of stress, healing the environment with subtle energies, an overview of Quantum Medicine, healing animals using electronic biofeedback, preparation for a shift, anthroposophical herbs, how to explain dimensions of the universe which cannot be seen, color and light in the cosmos, energetic properties of the physical layers of the earth, how to legally practice alternative medicine, experiments in consciousness and breath, harmonics of chakras, fermentation of kitchen waste into quality fertilizer, German New Medicine, geomantic applications of scent, sound and sacred geometry and how to heal the earth.
For additional information on future conferences go to www.psychotronics.org or call 502-429-6600.
Meet the Founder

Businessman and retired Congressman Berkley Bedell founded the Foundation for Alternative and Integrative Medicine in 1998. Learn more...
Gifting Opportunities
FAIM depends upon public donations to continue its work. You can help!
Giving options include: