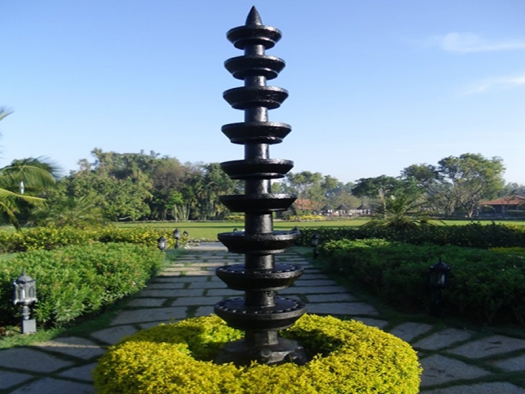 Soukya means "wellness" in Sanskrit which is the foundation of Dr. Mathai's Soukya Wellness Centre in Whitefield, India. It is an excellent case study for integrative medicine with a highly diverse staff who are trained in both Western and Eastern medical practices.
Upon entering the wellness center, I was welcomed through ceremony and met with women healthcare providers from various backgrounds. I met with a naturopath and ayurvedic doctor who was able to tell me about my current health issues using only my pulse. I was impressed how accurate she was about my health concerns by only holding my wrists for a moment. Soukya also employs nutritionists, homeopaths, and works with allopathic specialists as well.
After several rounds of counseling with me, the medical professionals came together to discuss what they individually discovered about my health in order to collectively determine the best possible treatment plans for my health concerns. This process of combining medical analysis from a broader range of knowledge without bias can truly be a huge advancement to integrative medicine. The women who ran the center thoroughly explained the treatments they chose for me, what to expect during treatment, what health concerns it will address, and what I can do in the future to further prevent its recurrence. I was really impressed with how thorough they were and genuinely wanted to ensure I was educated throughout the healing process.
One of my first treatments was shirodhara where hot oil is poured across the forehead to help increase relaxation and reduce mental stress. After travelling around the world with ever-changing time zones, cultures, and environments, I could definitely use the mental relaxation to start my healing experience. Prior to treatment, the facilitators would always say a prayer which really enforced healing mind, body, and spirit. The treatment was incredible and my mind was completely relaxed.
I was truly impressed with the beauty of Soukya's yoga and meditation hall. The hut is surrounded by gardens and you must cross a pond to enter yoga hall. The mural across the back wall is made of colorful tiles and mirrors to create an amazing space for mental relaxation. It is open to the air and allows sunlight in to naturally brighten the space. The size of the hall allows for a large number of people to attend yoga and meditation courses which contribute to improve mind, body, and spirit.
All of the oils used at Soukya Wellness Centre are created on-site using the ancient traditional Vedic methods. The oil is all natural and used in numerous treatments at the centre. All of the guests receive a gift basket which includes oil, soap, shampoo powder, and toothpaste powder which are all made on the 30-acre site. This creates a self-sustaining healing centre which does not need to outsource in order to provide treatment. They create and believe in their products which is comforting for both the doctors who recommend it and those who benefit from its use.
Soukya has medicinal herb gardens, vegetable gardens, and orchards of fruit and nut trees to produce the majority of food prepared in their amazing restaurant. Depending on each person's body type and health concerns, the nutritionists and medical professionals will specify the food which can be eaten for each meal. The wait staff is knowledgeable about your optimum diet and provide a banana leaf filled with healthy food options alongside Soukya's signature tea. This is a good example of going to the "farm"-acy rather than going to the pharmacy for health answers.
Dr. Mathai and his staff conduct research into the use of homeopathy in medicine. They have had successful results which further support his opinion to provide homeopathic remedies to those who would like a more gentle approach to medicine. The Indian government supports over 100 homeopathic colleges across the country and homeopathy is used nationwide as it is cost-effective and is a trusted treatment by the local families of India.
Soukya's approach to wellness has inspired many people to travel to Whitefield, India to experience integrative medicine in a gorgeous setting. Prince Charles and Duchess Camilla Parker have often visited Soukya and have asked Dr. Mathai to co-host a wellness event in 2013 with the Prince Charles Foundation to share his view of integrative wellness. As England and India are working together, the Foundation for Alternative and Integrative Medicine will also attend the event to ensure the United States is also represented at such a prestigious health event.
One feature stands out in the centre of Soukya's main courtyard and it is a door open to the West. I encourage my fellow Americans to at least take a look through the door of the ancient sciences of the East and if you are inspired, don't be afraid to step inside. As I am often told in Indian marketings... "Looking is free."
For more information, visit the Soukya Wellness Center web site.
About the Author