Orthomolecular Medicine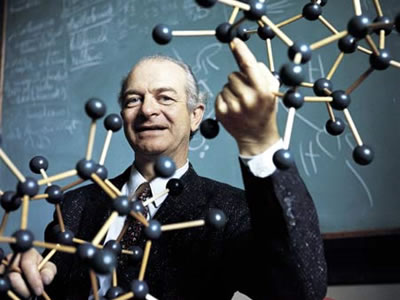 Orthomolecular is a term made up of ortho, which is Greek for "correct" or "right" and molecule which is the simplest structure that displays the characteristics of a compound. So it literally means the "right molecule". Linus Pauling, Ph.D., (above) coined the term in his 1968 article "Orthomolecular Psychiatry" in the journal Science.
The goal of orthomolecular medicine is to restore the body's optimal environment by correcting imbalances or deficiencies based on individual biochemistry by using natural substances such as vitamins, minerals, trace elements and amino acids.
Dr. David Perlmutter describes neuroplasticity and the ability of the brain to change and reorganize itself and its function.
Abram Hoffer (November 11, 1917 – May 27, 2009), was a Canadian psychiatrist known for his work with nutrition, schizophrenia, and cancer. He is considered to be the father of Orthomolecular Medicine.
The clinic proposes a medical paradigm based on non-toxic biological medicine that, not only identifies, but also eliminates the root causes of acute and chronic diseases including cancer.
Dr. Yu is a descendant from long lineages of traditional Chinese and Korean healers. His protocols are based on orthomolecular medicine.
Apex Energetics offers courses that delve deeply into orthomolecular medicine. They offer weekend workshops, one day courses and two hour updates. This training is an upper level introduction to the brain and all it's functions.
This Apex Energetic forum covered the Impacts of Estrogen on the NeuroEndocrine Immune Axis brought on with the onset of perimenopause.
Dr. Humiston received his medical training in the military. He determined he could practice more effectively in Mexico using alternative medicine and unconventional therapies. Orthomolecular medicine is key to his success.
Meet the Founder

Businessman and retired Congressman Berkley Bedell founded the Foundation for Alternative and Integrative Medicine in 1998. Learn more...
Gifting Opportunities
FAIM depends upon public donations to continue its work. You can help!
Giving options include: