Heart Disease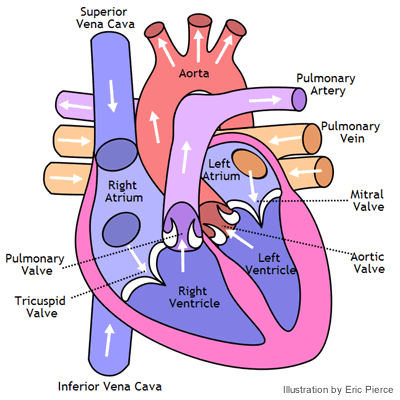 How the heart works: Blood enters the heart from the body through the inferior and superior vena cavas, and collects in the right atrium (left side of illustration). It travels through the tricuspid valve into the right ventricle, which pumps blood to the lungs through the pulmonary arteries. In the lungs, the blood drops off carbon dioxide and picks up oxygen and then returns to the left atrium. It enters the left ventricle through the mitral valve, and gets pumped back out to the body via the aorta.
Illustration by Eric Pierce, used with permission.
Heart disease is at an all time high due to the American diet, smoking, stress and other factors. FAIM attends conferences to further the education of the public on beneficial life styles for prevention.
Discover the stunning truth behind this essential "vitamin" – and the simple switch that's much, much better for you.
There are many misconceptions about dietary fats and oils. This is unfortunate because fats are absolutely essential to maintain optimal health. Learn which fats are good for you.
There are many misconceptions about dietary fats and oils. This is unfortunate because fats are absolutely essential to maintain optimal health. Learn the importance of fats and which ones to avoid.
What is a good lifestyle to insure great heart health and long life? Should you eat saturated fats or not? Does your cholesterol really matter? How much exercise is necessary? Read what Dr. Sinatra, cardiologist, has to share and take the Heart Health Questionnaire to see how you fare.
Could an array of blood tests other than cholesterol tell you the most about your heart health? Learn the latest about tests that will help you monitor your heart health before you are stricken with a heart attack or stroke.
NSAIDs (non-steroidal anti-inflammatories) have the potential to affect the kidneys and liver, contribute to high blood pressure in women, and cause intestinal bleeding. Some research suggests that NSAIDs are cardio-toxic. Dr. Stephen Sinatra warns patients not to take them on a regular basis for any length of time.
More than three quarters of a million Americans are affected by stroke each year and the deficits encountered by survivors make stroke a leading cause of functional disability. Dr. Stephen Sinatra offers a comprehensive stroke prevention plan.
Learn about the world's very best treatments for arteriosclerosis known as hardening of the arteries via plaque deposits.
Learn how to look at cholesterol and heart disease differently. This book is vital for anyone with heart disease, high cholesterol, taking statins, or if you simply want to protect yourself from heart disease in the future.
Heart MD Institute has launched a cooking video series with Dr. Sinatra and his son, Step, preparing heart-healthy organic meals.
Dr. Mark Hyman discusses a study in the Archives of Internal Medicine that found statins increase the risk of getting diabetes by 71 percent in post-menopausal women. Since diabetes is a major cause of heart disease, this study calls into question current recommendations and guidelines for women to take statins to prevent heart attacks (called primary prevention) and suggests they may do more harm than good.
Dr. David Williams introduces Strodival (ouabain) as a way to stop angina and help prevent the situation from progressing to a full-blown, possibly fatal, heart attack.
Enhanced External Counterpulsation (EECP) is a non-invasive procedure for patients with angina or known coronary artery disease.
An African plant called "strophanthin gratus" has proven to be very effective for angina pectoris and myocardial infarction. This is backed by much research and actual results in clinics. But the benefits of strophanthin relate to more than just heart disease.
Dr. Sinatra shares information on the role that CoQ10, fish oil and other supplements play in heart health. He takes a close look at statin drugs and cholesterol. FAIM's goal is to help broaden prospectives through education and thanks Dr. Sinatra for sharing this vital information with our readers.
Dr. Julian Whitaker has spent over 30 years helping people live longer, healthier lives by recommending the best in conventional medicine and pairing that with the most powerful natural solutions available. He stresses the therapeutic powers of diet, nutrition, exercise, and all-natural hormonal and dietary supplements in a balanced approach to health and wellness. Dr. Whitaker addresses heart disease, cholesterol and the common blood test for inflammation, C-Reactive Protein and the use of statin drugs. Are they friend or foe?
Heart MD Institute is a free online educational resource about integrative medicine. Dr. Stephen Sinatra, a board certified cardiologist, certified nutrition specialist, certified bioenergetic psychotherapist and anti-aging specialist, founded Heart MD Institute to promote a medicinal model based on integrative strategies and inspire the "inner healers" within everyone.
In this article Keith Woodford, author of the Devil in the Milk, provides updates on recent research on BCM7, what he calls "the milk devil."
FAIM is always on the lookout for interesting concepts in health. It has come to our attention that there is a possible issue with milk. Since the public consumes so much dairy we felt it was important to share Keith Woodford's research.
Dr. Sinatra studies heart disease from a nontraditional perspective, immersing himself in the study of bioenergetic analysis, nutrition and healthy lifestyle to achieve speedier recoveries and improved health for his patients.
The theme for 2009 ISSSEEM conference was "Sacred Synthesis: Science with Heart." ISSSEEM is an interdisciplinary society with interest in the energetic component within many disciplines including quantum physics, therapeutic modalities, healing, psychology, consciousness, and the understanding of our multidimensional existence.
Titled, "Cardiovascular Disease and Inflammation, an Integrative Approach," the American College for Advancement in Medicine (ACAM) event drew nationally and internationally known physicians and research experts to teach practicing clinicians about the latest breakthroughs and scientific advances relevant to the treatment of cardiovascular disease.
At a time in history when strongly held nutritional beliefs are beginning to be questioned, information shared at the Fourfold Path to Healing Conference shed new light on healthy living, eating and movement.
Meet the Founder

Businessman and retired Congressman Berkley Bedell founded the Foundation for Alternative and Integrative Medicine in 1998. Learn more...
Gifting Opportunities
FAIM depends upon public donations to continue its work. You can help!
Giving options include: