Southwest College of Naturopathic Medicine & Health Sciences (SCNM)
Phoenix, Arizona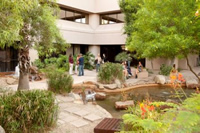 SCNM's renowned faculty and dynamic student body share a passion for innovative learning and technology, rigorous clinical training, public health service and the advancement of naturopathic medicine.
The college has pioneered programs in environmental medicine, women's health and pediatrics – all built upon the core naturopathic modalities of clinical nutrition, botanical and physical medicine, homeopathy and acupuncture.
The modern campus in Phoenix is only a 20-minute drive from desert mountain parks and many outdoor attractions, to be enjoyed thanks to over 300 days of sunshine.
Degree offered
Doctor of Naturopathic Medicine
Contact
Southwest College of Naturopathic Medicine and Health Sciences (SCNM)
2140 E. Broadway Rd.
Tempe, AZ 85282
Phone: 480-858-9100
E-mail: admissions@scnm.edu
Meet the Founder

Businessman and retired Congressman Berkley Bedell founded the Foundation for Alternative and Integrative Medicine in 1998. Learn more...
Gifting Opportunities
FAIM depends upon public donations to continue its work. You can help!
Giving options include: