Canadian College of Naturopathic Medicine (CCNM)
Toronto, Ontario, Canada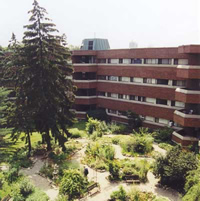 CCNM, Canada's premier institute for education and research in naturopathic medicine, offers new thinking, new research and new approaches to health care. CCNM is also home to the Robert Schad Naturopathic Clinic, a vibrant, on-campus teaching clinic where third- and fourth-year interns and naturopathic doctors service more than 26,000 patient visits a year.
Toronto is a safe city, full of diversity, nightlife and outstanding attractions. If you live in our on-campus residence, you have direct access to a city-wide public transit system and miles of parks and green space, as well as retail shops and services. CCNM graduates practice across North America.
Programs offered
Doctor of Naturopathic Medicine Diploma Program, four-year, full-time.
Some prerequisite sciences courses can be completed at CCNM. Please visit the school's website for more information.
Contact
Canadian College of Naturopathic Medicine (CCNM)
1255 Sheppard Avenue East
Toronto, Ontario, Canada M2K 1E2
Phone: 416-498-1255 ext. 245
E-mail: info@ccnm.edu
Meet the Founder

Businessman and retired Congressman Berkley Bedell founded the Foundation for Alternative and Integrative Medicine in 1998. Learn more...
Gifting Opportunities
FAIM depends upon public donations to continue its work. You can help!
Giving options include: