Bastyr University School of Naturopathic Medicine
Seattle, Washington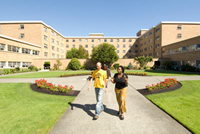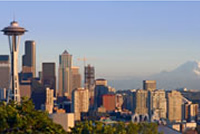 Bastyr University's School of Naturopathic Medicine is recognized globally for its rigorous curriculum and groundbreaking research. A fully accredited private university, Bastyr is an ideal place to live, study and play.
Its new eco-friendly Student Village is certified LEED Platinum and designed to fit into the campus' natural landscape. Located a short drive from both Seattle and the Cascade Mountains, the campus is set on 51 acres of wooded grounds next to Lake Washington and St. Edward State Park, offering miles of hiking, biking and running trails. Students experience a comprehensive clinical training program at the largest natural health clinic in the Northwest, the Bastyr Center for Natural Health. They also have the opportunity to engage in numerous research projects through the Bastyr University Research Institute.
Bastyr University recently secured property rights to open a secondary campus in San Diego, California, and plans to begin offering its Doctor of Naturopathic Medicine degree program there in fall 2012.
Degrees offered
Doctor of Naturopathic Medicine (with optional dual degree in acupuncture)
Doctor of Acupuncture and Oriental Medicine
Master of Science in:

Acupuncture and Oriental Medicine
Midwifery
Nutrition (with optional Didactic Program in Dietetics)
Nutrition and Clinical Health Psychology

Bachelor of Science with a Major in:

Exercise Science and Wellness
Health Psychology
Herbal Sciences
Nutrition (with optional Didactic Program in Dietetics)
Nutrition and Culinary Arts
Nutrition and Exercise Science

Certificate in Chinese Herbal Medicine
Certificate in Holistic Landscape Design
Dietetic Internship
Contact
Bastyr University
14500 Juanita Drive NE
Kenmore, WA 98028
Phone: 425-602-3330
E-mail: admissions@bastyr.edu
Meet the Founder

Businessman and retired Congressman Berkley Bedell founded the Foundation for Alternative and Integrative Medicine in 1998. Learn more...
Gifting Opportunities
FAIM depends upon public donations to continue its work. You can help!
Giving options include: