Diabetes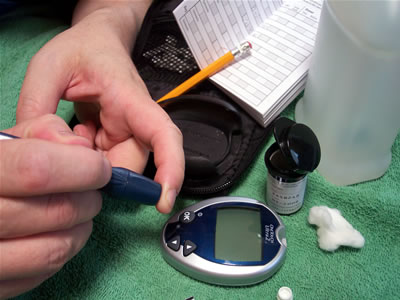 Over eight percent of the American population suffers from Type 1 and Type 2 Diabetes. FAIM investigates clinics around the world which implement protocols for Diabetes. Findings show nutritional protocols, diet and life style changes are effective in addressing these issues.
In The Blood Sugar Solution Cookbook Dr. Mark Hyman shows you how to take an assessment of your own health status and how to prepare your kitchen to follow the principles of eating healthy for life. Best of all, it has more than 175 recipes to fill your kitchen with the enticing aroma of world-class meals.
Do you have leg or arm pain from poor circulation? Dr. Steven Kavros discusses research that shows the value of intermittent pneumatic compression (IPC) in many areas of both upper and lower extremity vascular disease.
The Blood Sugar Solution has a bold central goal: to address and begin to reverse a global epidemic of diabesity. It is a personal guide and plan, as well as a program for helping people get healthy together, based on functional medicine, and it is a blueprint for us to take back our health as a society.
Dr. Frank Shallenberger reports on his experience and two studies on the effects of berberine on blood sugar control and triglyceride levels and discusses berberine as an effective treatment for diabetes.
In the US, as well as other places around the world, the number of people living with diabetes continues to rise at an astounding rate. Our sedentary lifestyle, coupled with the typical western diet rich in sugars, bad fats and low fiber suggest that this problem will continue to grow.
Dr. Gabriel Cousens, is a holistic physician, medical researcher, world-recognized live-food nutritionist, psychiatrist, homeopath, acupuncturist, Ayurvedic practitioner, detoxification therapist, ecological leader, Reiki master, internationally celebrated spiritual teacher, author, lecturer, and world peace worker. He is the director of Tree of Life Rejuvenation Center.
Dr. Pazan is the director of the Bio Center Reckewig in Ecuador. It is a small multiple physician clinic of natural and non-toxic therapies.
Dr. Sacha Barrio is a Peruvian-American OMD trained in the United Kingdom. Successively, he received a scholarship to study in China and became apprentice to Dr. Huang Huang in Nan Jing, China. Dr. Huang uses traditional diagnosis based on body types and applies classic herbal formulas from the Shang Han Lun. Dr. Barrio also integrates his practice with Peruvian medicinal herbs which are part of the traditional Amazonian and Andean pharmacopeias. 
Dr. Gabriel Cousens is challenging Conventional Medicine head-on by curing people of Diabetes, a disease considered by most as incurable. He believes that by focusing on this disease he is tackling the tip of an iceberg of a whole dysfunctional medical system. To this end, Dr. Cousens' strategy is to speak directly to the student body of medical schools. His lectures are scientific and break paradigms. Some schools have received him with open arms; others have rejected him outright. A dean of a school (that has a prestigious Complementary and Alternative Medicine program) wrote back to him: "we do not want you or anybody like you to ever speak in our school."
In this article Keith Woodford, author of the Devil in the Milk, provides updates on recent research on BCM7, what he calls "the milk devil."
FAIM is always on the lookout for interesting concepts in health. It has come to our attention that there is a possible issue with milk. Since the public consumes so much dairy we felt it was important to share Keith Woodford's research.
There is a Cure for Diabetes has been an interesting collective effort of over thirty-five years of input from clients and pioneers of the live-food movement to heal diabetes naturally.
Meet the Founder

Businessman and retired Congressman Berkley Bedell founded the Foundation for Alternative and Integrative Medicine in 1998. Learn more...
Gifting Opportunities
FAIM depends upon public donations to continue its work. You can help!
Giving options include: