Complementary and Alternative Medicine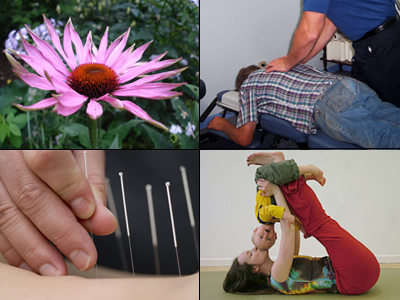 Complementary and alternative medicine (CAM) is the term for medical products and practices that are not part of standard care.
Standard care is what medical doctors, doctors of osteopathy and allied health professionals, such as registered nurses and physical therapists, practice.
Alternative medicine means treatments that you use instead of standard ones.
Complementary medicine means nonstandard treatments that you use along with standard ones.
Examples of CAM therapies are acupuncture, chiropractic and herbal medicines. (from the National Center for Complementary and Alternative Medicine)
With the current shift of citizens looking for new ways to heal, complementary and alternative protocols are of keen interest to FAIM.
When we are making a choice to vaccinate ourselves or our children, we need to first answer four questions: what is the severity of this disease; how effective is vaccination; what are the risks of vaccination; and are there ethical reasons to accept or decline vaccination?
The best way to prevent the flu is by living a lifestyle that supports a healthy immune system. Dr. Sarah Bedell Cook discusses evidence to support the benefits of healthy lifestyle, healthy diet, and nutritional supplementation for flu prevention.
Dr. Sarah Bedell Cook shares recommendations for rest, hydration, diet, and supplements to help you recover from the flu.
Clinical data from the Red Cross shows Miracle Mineral Solution (MMS) to be successful in the treatment of malaria.
There are several kinds of approaches to natural health. The doctors who have the best results are ones who understand why the condition developed and understand the intricate biochemical reactions to it.
The ionic footbath is a total body detoxification technology based upon the beneficial and purifying effect of ions on the body.
Learn about the gift of chi gong masters, confirmed with thermal imaging. See what is happening in Hungary at a complementary and alternative healing center which combines many facets of medicine as well as structured water.
Sound waves help to normalize imbalances and synchronize the cell's frequency back to its natural healthy state of vibrational resonance. Sound is a medium that is increasingly being used in both alternative and conventional medicine – through the use of both audible and inaudible frequencies. This article looks at studies, technologies, and methods of sound application.
Joan Parsi Wilcox interviews Ferdinando Pisani Massamormile, International Research Consultant with FAIM, for Quantum Health magazine. "Basically, what Berkley [founder of FAIM] wants us to do is to look outside the box. Many people who are working in the mainstream and investigating alternative medicine do so by using the typical one-at-a-time steps of trying to broaden the field of science. Whereas what we try to do is investigate..." says Massamormile.
A medical conference of unique design, made possible by the overlapping missions of four nonprofits helping transform healthcare to an integrative model being a composite of the visions and ideals of the American Academy of Environmental Medicine (AAEM), American College for Advancement in Medicine (ACAM), American Holistic Medical Association (AHMA) and the International College of Integrative Medicine (ICIM). Combined, these organizations have 137 years of dedicated service in increasing awareness of the importance of the physical, mental, emotional, environmental, social and spiritual aspects of health and wellness.
Spring and Fall seasons provide the best opportunities for deeply detoxifying and cleansing the body of harmful impurities that have collected in our organs and tissues over the past months and years. Dr. Isaac Eliaz offers this protocol.
Jim Humble was a mining explorer searching for precious metals in recondite tropical areas where diseases are rampant. In a dire case of malaria he daringly used a simple substance used to purify water to treat the disease. To his own surprise it worked which led him on a life-long pursuit to perfect and communicate this discovery.
Dr. Isaac Goiz uses pairs of magnets to neutralize disease-causing pathogens in the body.
Whether you have experienced massage or not, there are many benefits. Find out what you can achieve through massage including pain management, increased immunity, decreased depression and relief from migraine pain.
FAIM attended the Integrative Medicine Symposium in Miami, FL. The event was organized by the Center for Complementary and Integrative Medicine at the Department of Psychiatry and Behavioral Sciences at the University of Miami Miller School of Medicine.
FAIM created a slide presentation to introduce readers to complementary and alternative medicine with a brief discussion about various therapies.
The Foundation for Alternative and Integrative Medicine (FAIM) attended the Global Forum for Health Research that was held in Havana, Cuba from the 16th to the 20th of November, 2009. This international event was the opportunity to generate a dialogue and a debate among the many diverse stakeholders involved in health research.
IABC was formed in 1993 by Dr. Björn E.W. Nordenström. Membership consists of medical doctors, biologists, biophysicists, engineers, educators and business professionals. They are involved in the development of electrotherapeutic, thermotherapeutic and magnetotherapeutic techniques.
Dr. Marcus Laux travels the world to bring the latest in natural healing solutions for their health. There has been a long standing argument whether magnets heal or not. Dr. Laux shares information regarding his take on what the science says about magnets and pain relief, body healing, stroke rehabilitation and urinary incontinence.
Dr. Rath, a German physician, is the promotor of some very controversial campaigns that are aimed at warning humanity of an encroaching collusion of pharmaceutical industries and war mongering interests.
The symposium covered an array of topics including an update on the Parkinson's study referenced in FAIM's research section on this web site. Also, Dr. Radin reviewed an experiment that demonstrated aspects of nonlocal consciousness which suggests we have the ability to see into the future.
The 17th Annual Anti-Aging Medicine Conference emphasized Regenerative Biomedical Technologies. These conferences cover a broad scope of topics in the field of anti-aging. Review the impressive list of speakers.
A4M hosts conferences throughout the world. Topics relate to anti-aging including vaccines, nutrition, hormone replacement, bioresonance, etc. Review the list of speakers to see if future conferences are of interest.
Titled, "Cardiovascular Disease and Inflammation, an Integrative Approach," the American College for Advancement in Medicine (ACAM) event drew nationally and internationally known physicians and research experts to teach practicing clinicians about the latest breakthroughs and scientific advances relevant to the treatment of cardiovascular disease.
Meet the Founder

Businessman and retired Congressman Berkley Bedell founded the Foundation for Alternative and Integrative Medicine in 1998. Learn more...
Gifting Opportunities
FAIM depends upon public donations to continue its work. You can help!
Giving options include: