Thermography Video by Dr. Mercola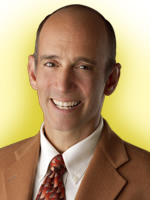 Dr. Joseph Mercola
Dr. Joseph Mercola has been at the forefront of alternative and integrative health care issues for many years. He has shared his insights with the public on an infinite number of health care concerns.
Now Dr. Mercola has a very good video that summarizes the benefits of Thermography. He writes:
For the longest time, it wasn't well-known that inflammation was the culprit responsible for many chronic diseases. However, many physicians like me now recognize that inflammation is a precursor to many diseases, such as cancer, arthritis, heart disease, stroke, diabetes, and high blood pressure.
Thermography is a diagnostic tool used to measure inflammation.
In a nutshell, this tool creates a digital map of your body that illustrates heat patterns – patterns that may detect some condition or abnormality.
Watch below or visit Dr. Joseph Mercola's Natural Health Center for more information.
Meet the Founder

Businessman and retired Congressman Berkley Bedell founded the Foundation for Alternative and Integrative Medicine in 1998. Learn more...
Gifting Opportunities
FAIM depends upon public donations to continue its work. You can help!
Giving options include: