EmbodiWorks
Integrative Cancer Treatment Information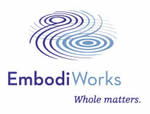 FAIM has learned about EmbodiWorks and would like to share this tremendous resource for anyone interested in cancer. It is an organization which educates and empowers people affected by cancer including Body, Mind, Spirit, Social, and Environmental aspects.
Body
Learn about cancer-fighting and wellness-promoting strategies supporting the physical body as one whole integrated system.
Mind
The mental and emotional inner life impacts health and healing through the mind-body connection. Learn about empowering mind-body practices.
Spirit
People are spiritual by nature. Healing is about wholeness. Explore our information and resources regarding spirituality.
Social
When cancer is in the picture, new perceptions and social experiences emerge. People dealing with cancer – patients, family members, friends – endure a range of social challenges and opportunities.
Environmental
Is there really a link between cancer and the environment? The answer is yes. Environmental carcinogens are prevalent.
Resources
Knowledge is power. Reliable resources are empowering. Explore our integrative cancer care resources for navigation tools and support.
Cancer Information A-Z
Cancer Information A-Z is the index of the EmbodiWorks website. The index is designed to list every topic of information we provide through our online resources. We invite you to explore Cancer Information A-Z to discover more about integrative cancer care and help you find resources quickly.
Contact information:
EmbodiWorks can be contacted through email and/or phone.
Please note that at this time, they are unable to provide individual direct assistance to people affected by cancer. This means they cannot respond to phone calls from cancer patients and their loved ones with questions about integrative cancer care. EmbodiWorks hopes to add other programs and services in the future offering one-on-one support.
Phone/Fax (USA/Canada): 1-800-775-7830
Phone (International): 1-415-729-9222
Email: info@embodiworks.org
California:
Jeannine Walston
Executive Director, EmbodiWorks
1001 Bridgeway #217
Sausalito, CA 94965 USA
Email: jeannine@embodiworks.org
Colorado:
EmbodiWorks
6525 Gunpark Drive, Suite 370-501
Boulder, CO 80301 USA
Meet the Founder

Businessman and retired Congressman Berkley Bedell founded the Foundation for Alternative and Integrative Medicine in 1998. Learn more...
Gifting Opportunities
FAIM depends upon public donations to continue its work. You can help!
Giving options include: