Sustainable Agriculture and Nutrient Dense Food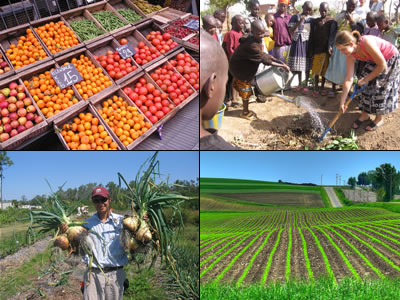 In search of protocols to promote a healthy world, FAIM is constantly reminded of the importance of nutritient rich foods which can only come from soils high in minerals. The world is as healthy as the food it can consume.
FAIM investigates agricultural methods to help replenish the soil and create nutrient dense foods. There are several organizations which stand out when it comes to reclamation and successful farming practices. Soil stewards of the world can now replenish major minerals, micro nutrients and trace elements needed for microorganisms, plants, animals, and humans to sustain optimum biological life.
Research supported by organizations like Acres USA supports the idea that human health begins with the soil. Good soil spawns nutrient-rich plant foods and healthy livestock products leading to a balanced healthy diet and a balanced healthy person.
ECHO (Educational Concerns for Hunger Organization) is a non-profit, inter-denominational Christian organization located on a demonstration farm in North Fort Myers, FL. ECHO exists primarily to help people working internationally with the poor be more effective, especially in the area of agriculture by offering education, training, seeds, and networking.
Remineralization of agricultural land, garden soils and the creation of nutrient dense food with 90-plus minerals is the goal of lifelong advocate of sustainable organic food production, Robert Cain who learned the technology called Sea Energy Agriculture from Maynard Murray, M.D.
Meet the Founder

Businessman and retired Congressman Berkley Bedell founded the Foundation for Alternative and Integrative Medicine in 1998. Learn more...
Gifting Opportunities
FAIM depends upon public donations to continue its work. You can help!
Giving options include: